I would like to start with a BIG CONGRATULATIONS to
Cherrytime
for winning last weeks Treasury Challenge! Since they have been featured here before as this was not their first time winning, they so generously offered to pay if forward to fellow Etsian Artist
Metalfreak
! I had an opportunity to speak with Jennifer of
Metalfreak
about her shop, her art and how it all came to be, so keep reading below...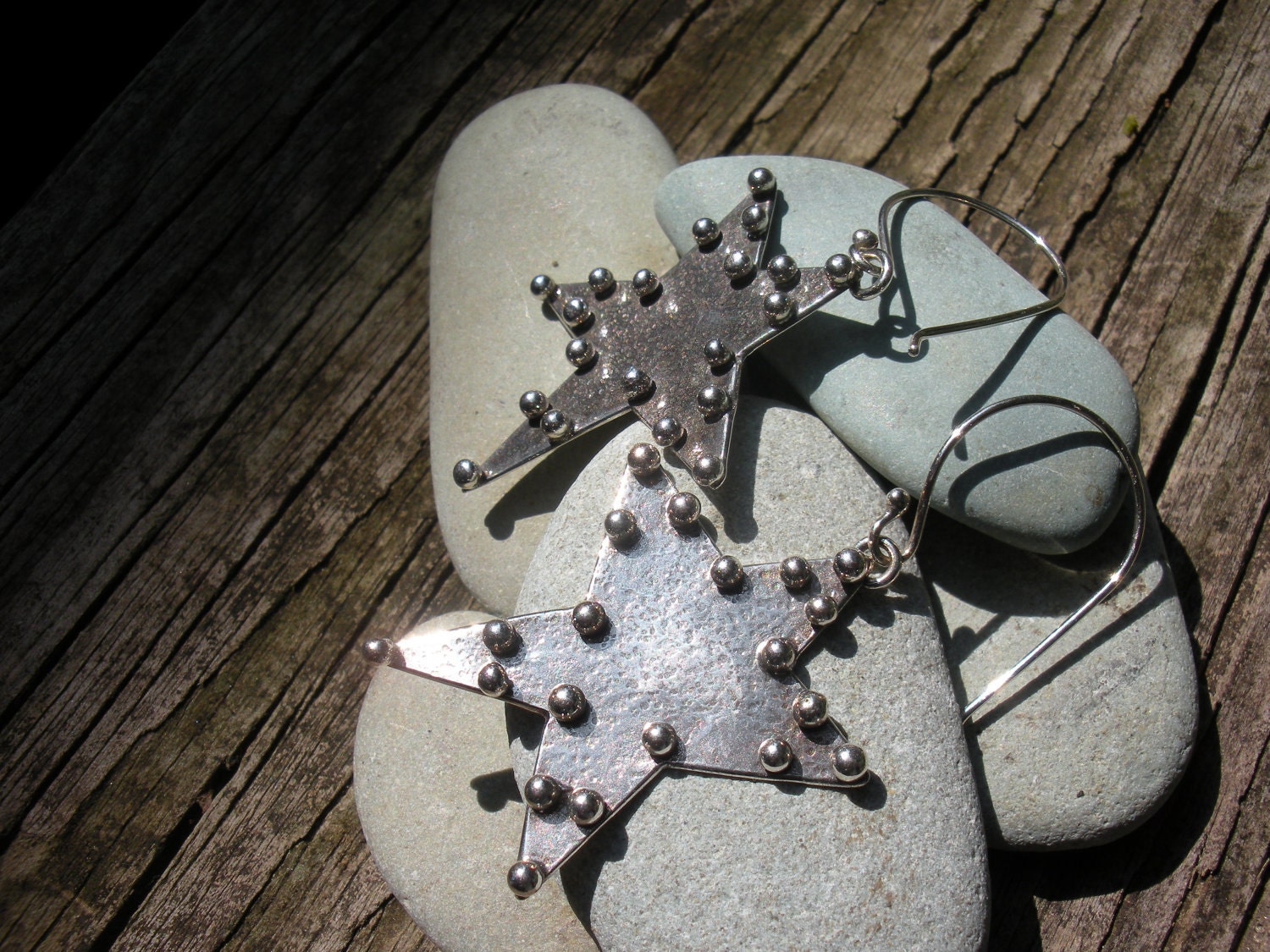 ~ My Interview with Jennifer ~
Can you tell us a bit about yourself and your shop?
My name is Jennifer James. I create wearable funky little pieces of art. Each piece is designed and produced individually, by me, by hand, using an unusual combination of natural gemstones and fossils, and metals. I try to balance playfulness and natural form by translating textures, colors, and patterns of the natural world into functional designs. I love design challenges and creating custom orders.
What inspired you to open your shop?
Friends from others states asked where they could view and purchase my jewelry. I finally decided I had enough inventory to open myself up to a new part of the world and joined Etsy as a seller.
Besides designing and creating, what else do you do?
I study! I love to learn everything I can about all the gemstones and minerals and fossils in the world. The funkier the texture, the more I am drawn to them! I go to gem and mineral shows and even hunt down a few stones in wild myself.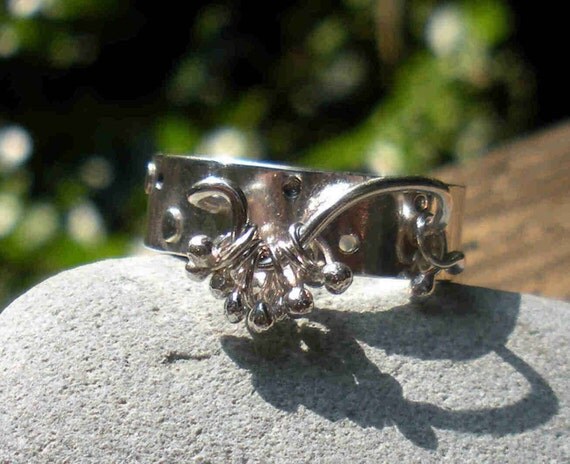 Where, who, or what does your influence come from?
I love the work of Tim Burton. I love surprises. I want my work to look like it should get up and crawl across your neck. I have an inordinate fondness for insects and find their gorgeous, highly mechanized bodies the epitome of form and function working together. Fianlly, I love Dr. Seuss and the idea nothing is impossible, so I like to pair the unsuspecting, such as a high quality diamond with a found riverstone.
What inspires you to be creative?
What doesn't? I see something beatuiful in everything, even the rusty streak left by nail decades ago. It seems everything I see on a daily basis is somehow translated into a design element. I collect little slices of my day in the form of seed pods and rocks. I keep a small notebook in my handbag and am always sketcing a texture I like or a pattern from a skirt walking by. Everything is so fun to look at and think, "How can I use that?".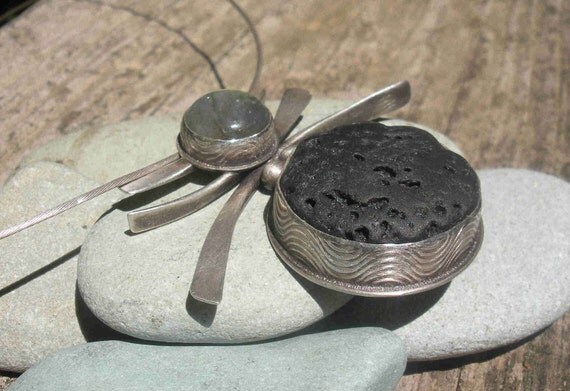 How do you get out of a creative rut?
I usually delve into the natural world. If I can re-establish my connection with Nature, I find a creative energy to design new things. Sometimes, I just turn an everyday object upside down or hold it up and look at it from below. A new shape, or a new perspective on an old shape, opens a new field of deisgn opportunity.
When did you first discover that you were or wanted to be an artist?
Oh, as a child! I was quite rambunctious and spent a lot of time outdoors. I spent days making forts, mud sculptures, and jewelry woven from willow reeds and grassy vines. I had a bucket of crayons and found I could melt them and paint with them. Now as an adult, I asked what my love in life is and the answer is METAL. So here I am, embarking on my next career as a metalsmith!
Can you describe your creative process for us?
A natural scientist, I see the world through a microscope. I want to know how things are put together and how they work. I ask why. A lot. I take things aparts, open them, play with the seeds inside, frankenstein pods from different species. Usually, I get inspiration from a funky natural shape and want to fabricate that shape in metal, by hand. This leads to problem-solving and experimenting with different techniques (probably my most favorite part). Then, once I find a solution, I go about tweaking the design by adding color or stones. Sometimes it starts with stone. The beauty of the pattern on a piece of jasper can tell me what it wants to be and what the metal needs to do to enhance it. And, of course, there is always a spontaneous element added. Whether a piece of gold lying next to the piece gets added because it makes the stone's color pop, or a mishap on the solderig brick makes a decision to add some silver balls.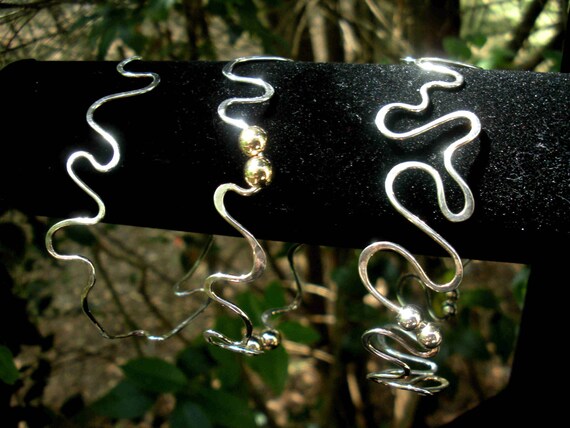 What is your most cherished handmade possession?
My Grandfather made a child-sized cabinet for my Mother when she was little. It later was used by brother as a child, then me. I still have it and love the stories each scratch on it can tell.
Where do you see or want your shop to be this time next year?
I would love to have more custom orders and a 100 sales!
Where would you like to be in ten years?
I would like to continue showing at galleries and festivals. I also hope to have a brick and mortar gallery with my studio in the back. I want to have a place where emerging artists can be comfortable exposing their work for the first time. I also want it to a be a place established artists can gather and share experiences and bounce ideas off one another. Hmm, sounds more like a coffeehouse with my studio in the back.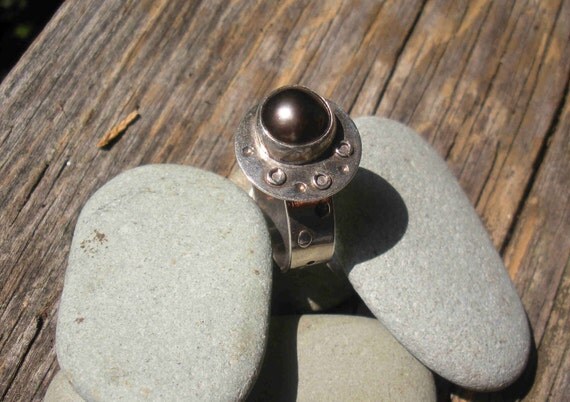 Who are your favorite shops to browse on Etsy?
Wow - there are new ones I find every time I log on, but here are a few
What is your best advice to newbie Etsian's just opening their shops?
Participate! Favorite, click, share...make friends and have fun.
Where else other than etsy can you be found on the net?
Do you have any coupon codes that you would like to share with our readers?
EAWTREAD...good for a 20% reduction.
The Winning Treasury...