This week we owe a big CONGRATULATIONS out to
Natural Flipside
for winning last weeks Treasury Challenge! You may remember seeing her featured here and reading her wonderful interview not too long ago, if you missed it then you can catch it
HERE
! Jessica so kindly offered to pay it forward by giving her winning feature to Deb of
One Barefoot Gypsy
.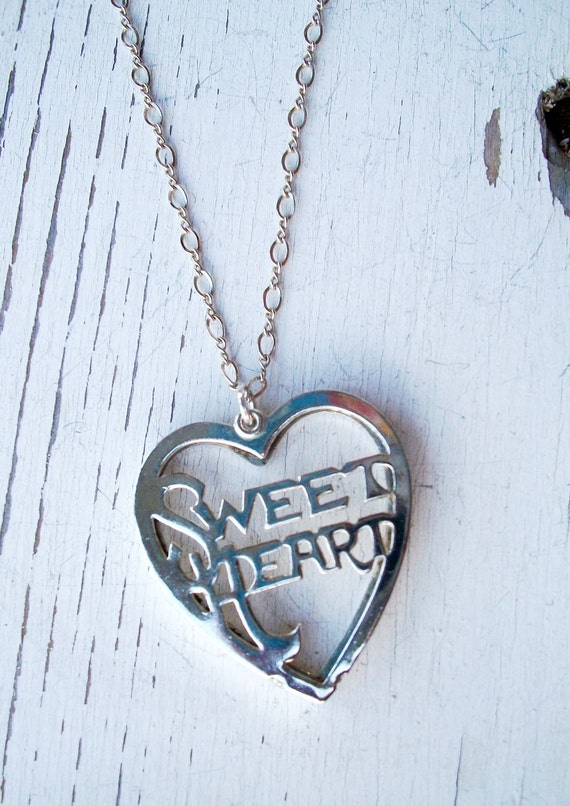 I had an opportunity to speak with Deb and find out a bit more about how it all began, how it is and how she wants it to be. Sit back, relax and get to know the artist behind the name
One Barefoot Gypsy
...
~ My Interview with Deb ~
Can you tell us a bit about yourself and your shop?
I am a 54 year old mother, wife and grandmother who is raising her 3 grandchildren (all under 4). I have my own antique/vintage store in the smallest historic district in Kentucky, Hanson, where I design displays of everything from Vintage Linens to Old shelf paper, wrapping paper and greeting cards. I 've always loved creating and finding interesting ways of self expression. Purchasing a book on jewelry making, I thought I would get to begin making pieces right away, but the book sat for over 5 years, unopened, until I finally did read it and began learning how to make what I envisioned. I incorporate Vintage Glass, Crystal, Brass and other old materials into the new pieces I bring to Etsy.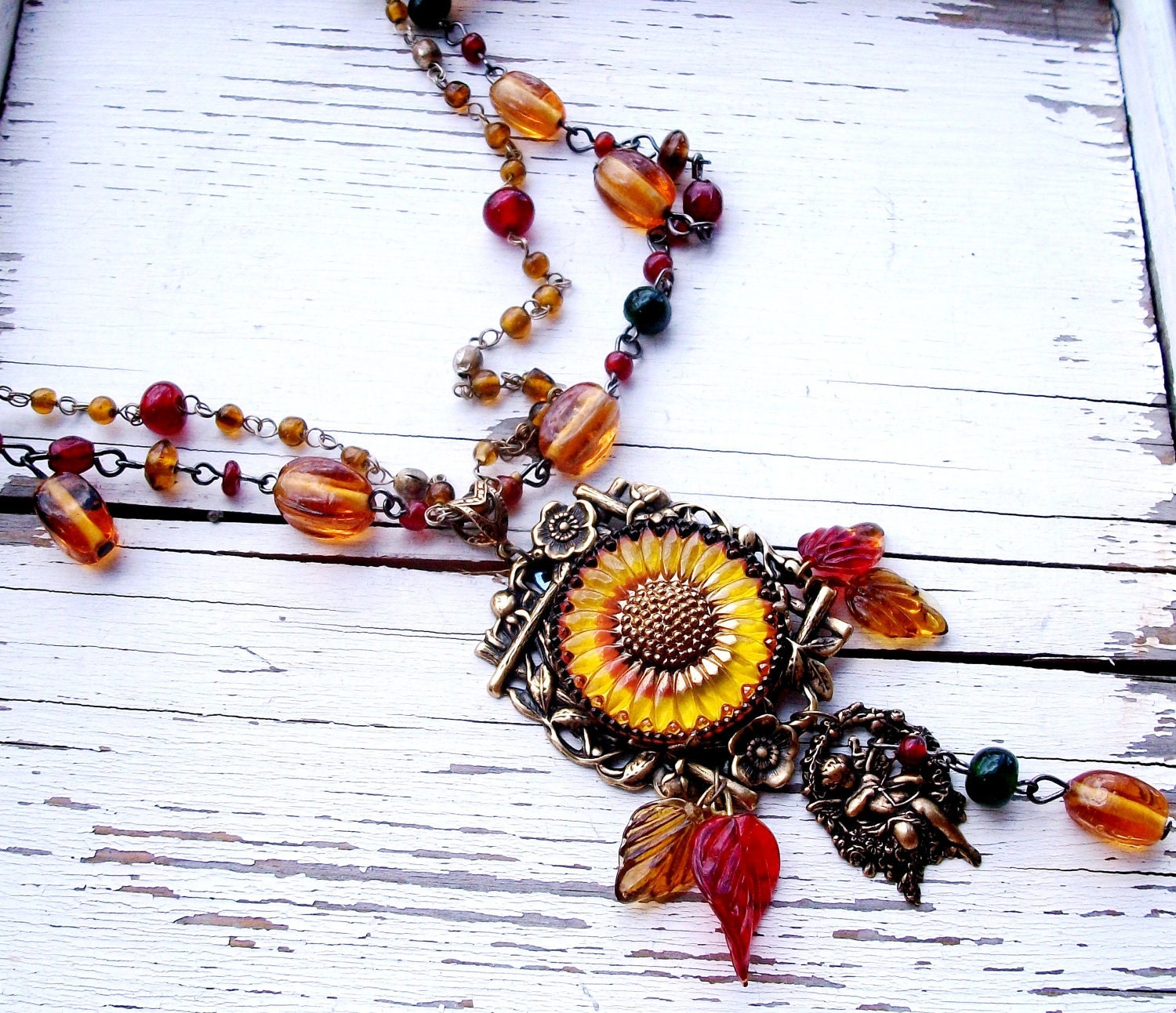 Besides designing & creating things, what do you do?
Besides my jewelry and antique etsy shops, I also have the actual store that I mentioned earlier and together with raising my grandchildren, I find little free time of late. When I do sneak out a bit, I love to travel, find small out of the way towns with great little shops and browse. I enjoy reading and learning new things, no matter what arena they fall into. Home decorating is another passion.
What inspired you to open your shop?
A friend told me about some success she was having with Etsy and after trying to sell My handcrafted Jewelry on Ebay with little to no luck, I felt it was time to try a new venue. I first began the Miss Willie's shop here, where I sell Vintage items and then started
One Barefoot Gypsy
.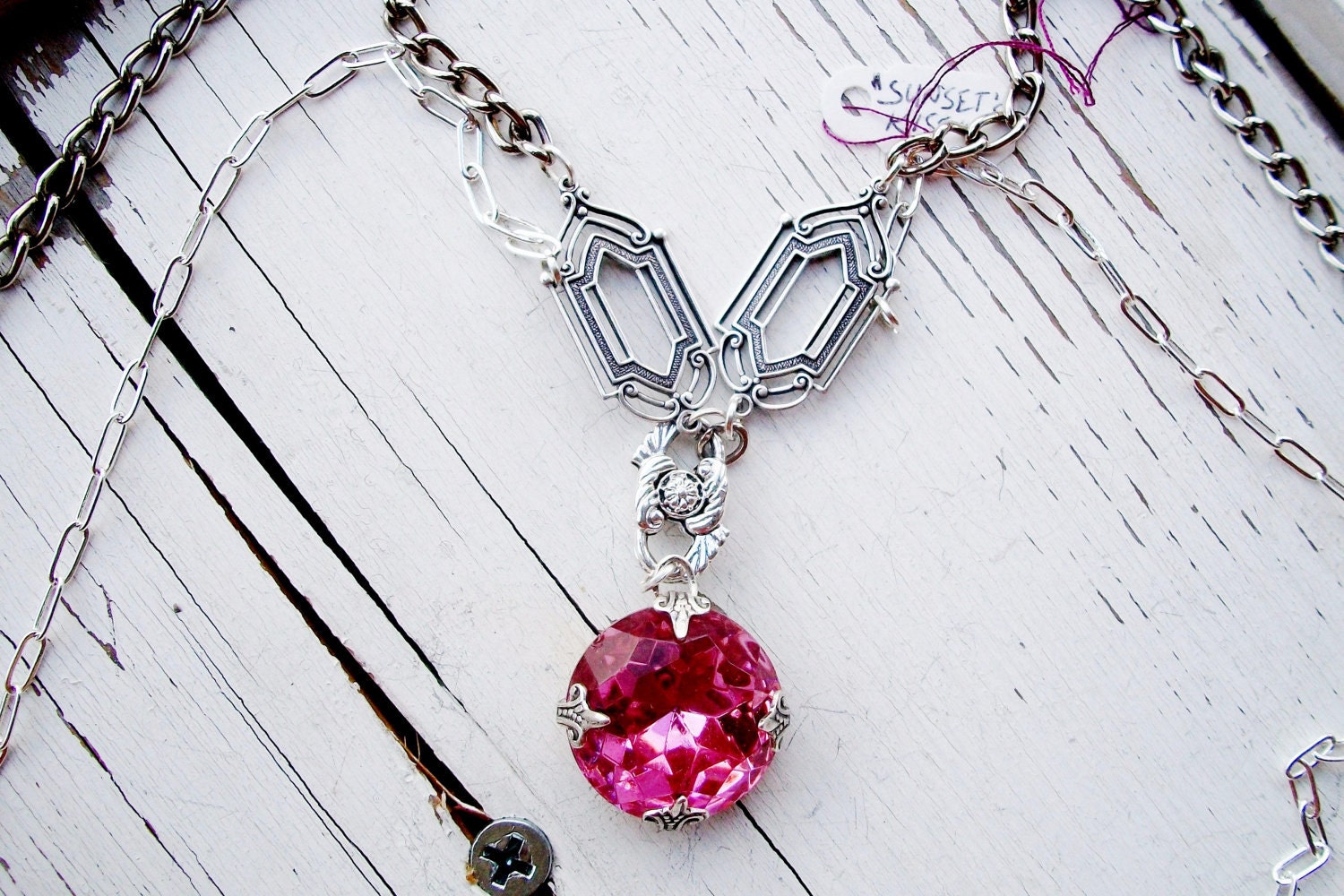 Where, who or what does your influence come from?
I am influenced by all Victoriana, the Art Deco and Art Nouveau Movements and more. The delicate pieces of Victorian Jewelry seemed so perfectly feminine to me. Glass and Crystal also have an extremely feminine appeal to me, so blending these seemed perfectly sensible when I began to create my pieces.
How do you get out of a creative rut?
I have not yet had a "creative rut", thankfully, but I know that purchasing a few new beads, or fabulous glass stones will get me thinking and planning a new piece within moments of the package being ripped open!
When did you first discover that you were or wanted to be an artist?
I don't think I ever really thought of what I loved to make, or create, specifically as "art", but I knew that it was much like my poetry and it showed the world a bit of what was in my soul, my desires etc. and that I HAD to do it. There is no choice. I am always making something!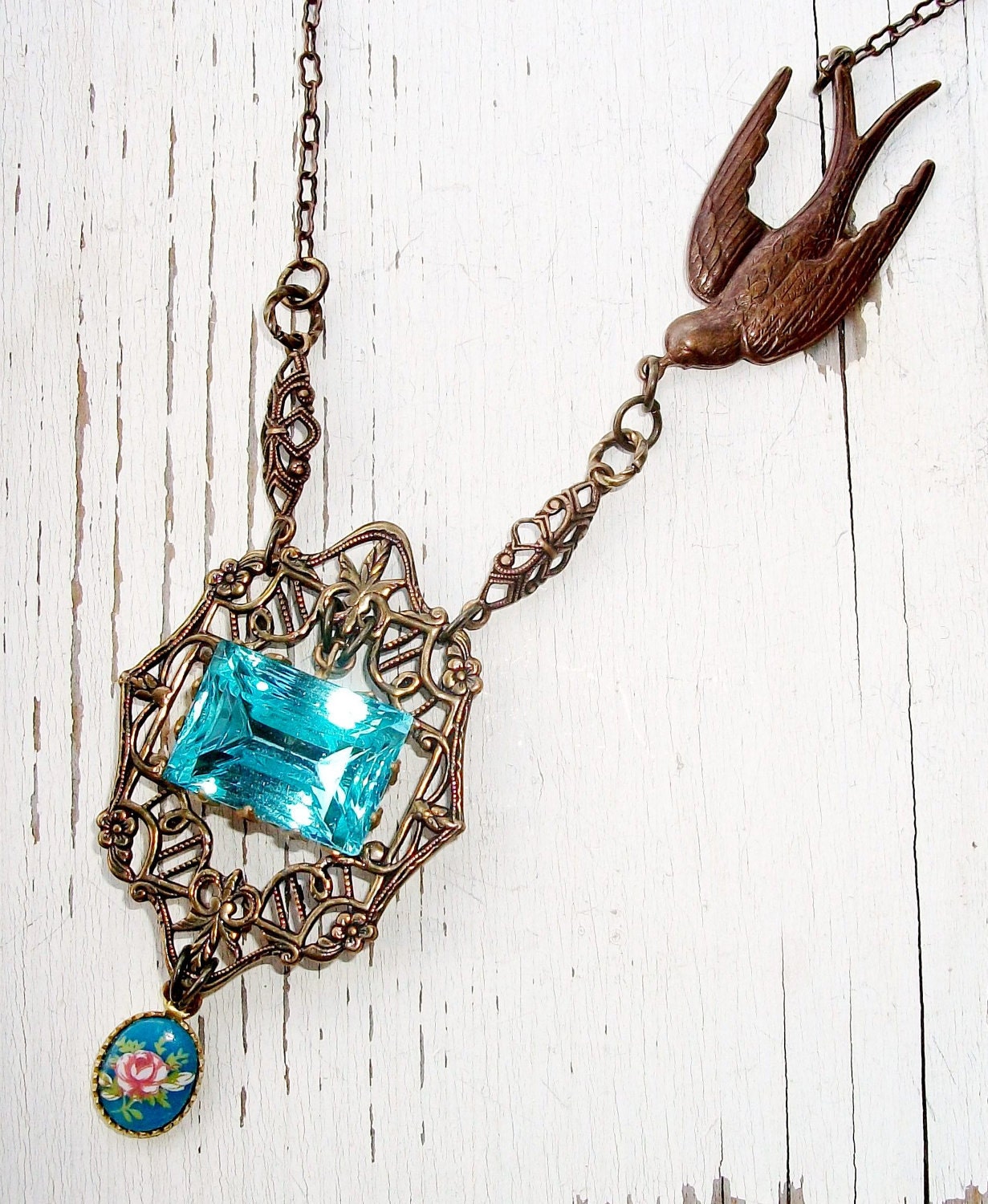 Can you describe your creative process for us?
My creative process runs the gamut, from setting stones and cabs on the front porch of my antique shop to pulling a few cases of things onto my screen porch overlooking the rolling hills and horses behind my home and simply starting with a color. Once the color is chosen, deciding what type of piece...earrings, necklace, bracelet etc. is next and then choosing the findings and other pieces that will make the "whole". Once in a while, I will not be happy with the first outcome and will begin again, until satisfaction in the piece has been attained.
What inspires you to be creative?
I CANNOT start a project unless I feel creative though. I know when I am and I definitely know when I am NOT.
What is your most cherished handmade possession?
My most cherished handmade possession would be any of the ceramic or porcelain pieces that my mother made. She passed away when I was in my 30's, after my father had been gone for several years and I felt so alone. Having these few items that she took pride in, brings me closer to the artist in her that she never knew existed.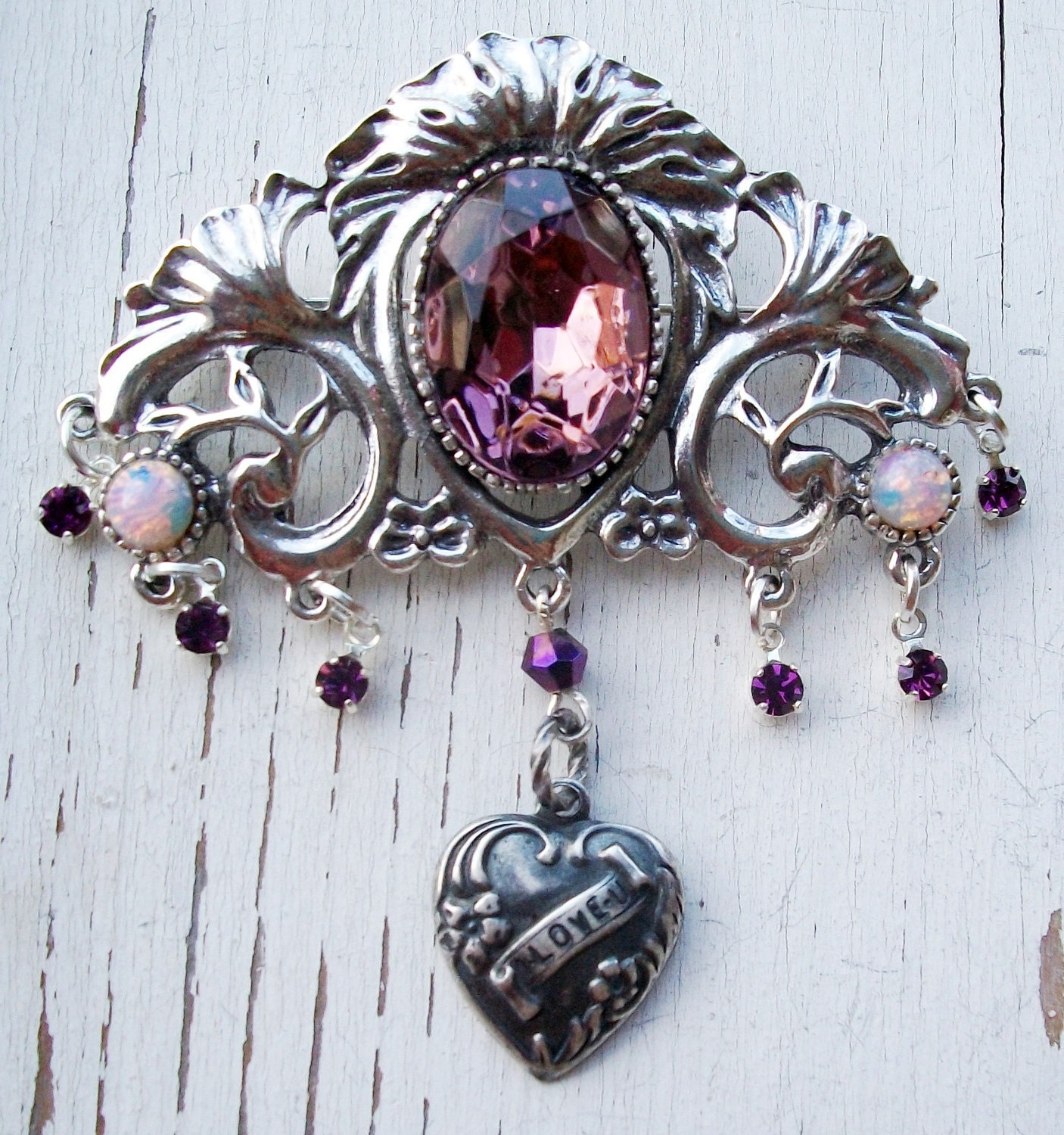 Where do you see or want your shop to be this time next year?
I would love to see my Etsy shop being profitable by next year as well as having many more available items in new and unusual forms. I would love to keep branching out and using different items to create with.
Where would you like to be in ten years?
In 10 years I hope to still be able to do what I am doing now, but MORE and in other venues as well. I want to take my jewelry to Art Fairs and Juried Shows. Perhaps have my own line of jewelry in the marketplace that is being produced for sale in shops around the world!
What is your best advice to newbie Etsian's just opening their shops?
Being fairly new to Etsy myself, my best advise would be to find someone who has it all figured out and is bringing in a large profit to ask their questions of. LOL I suppose right now, with the little knowledge I have, I would tell them NOT to give up and to keep trying and learning...eventually, it will pay off. (at least I am still hoping it will! )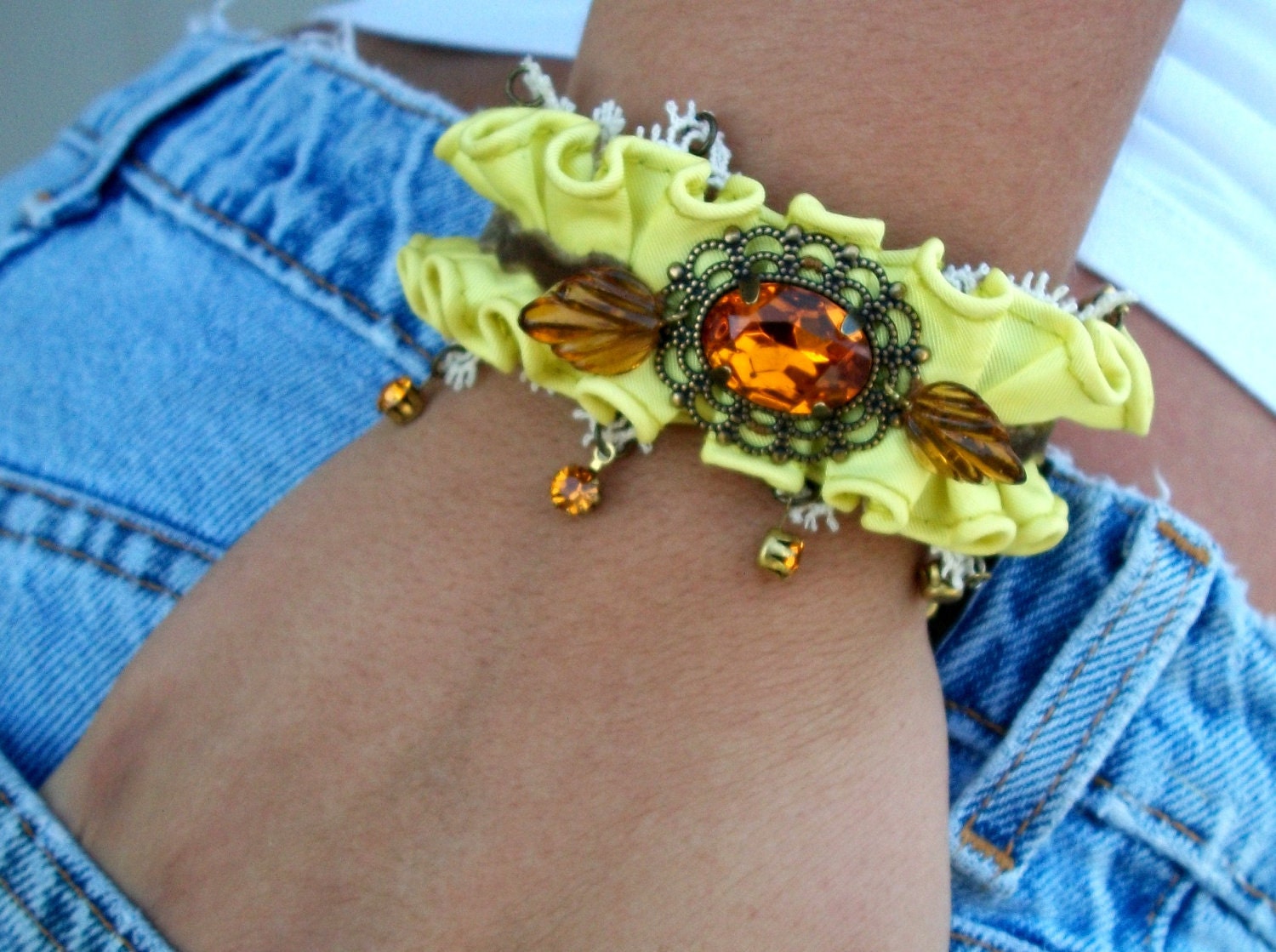 Where else other then Etsy can you be found on the net?
I have the two Etsy stores, I also sell on Ebay under
pasts_presents
, but am not as active there as I was for the past 11 years. My facebook page can be found under
MissWillie's
and we are planning to open a webstore that will use the Barefoot Gypsy name to consolidate both Miss Willie's Antiques and the Jewelry line sold under the Gypsy name now.
Do you have any coupon codes that you would like to share with our readers?
This Fall, buyers can use the coupon code FALLFREE to gain Free Continental United States shipping! I am also lowering some prices now for early Holiday shopping and will continue to bring sales and specials right through the holiday season. There is no better time to buy than now, with lots of new pieces in the shop, the sales and the FREE SHIPPING!
Thank~you Deb for sharing all of this with us! I will now leave you with Jessica of Natural Flipsides fabulous winning Treasury below....